The Sundowners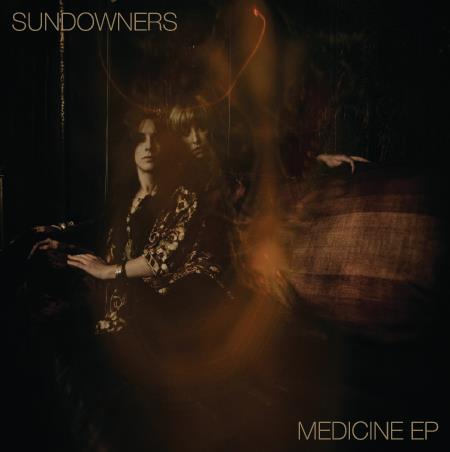 Two girls from a seaside town on the Wirral bonding over a mutual love of psychedelics and west coast harmonies. A friendship that sees them nurturing each other's musical talents, with Niamh Rowe teaching Fiona Skelly how to play guitar, and Fiona teaching Niamh to sing. It's the start of Sundowners' story.
Meanwhile, halfway across the world Fiona's brother Alfie's formative years are spent touring and working with band's like The Coral, Arctic Monkeys, and Oasis. Surrounded by some of Britain's best songwriters & musicians from the age of 16, it's an inspirational time, one that moulds his ambitions. In-between tours and back in Hoylake, he informally adopts both Niamh and Fiona who instantly become the group's front women, the talented trio then go in search of the missing pieces, bassist Tim Cunningham, and drummer Jim Sharrock.
Alfie, Fiona and Niamh continued to develop and hone their songwriting skills, gathering a melting pot of influences such as the Velvet Underground, The Byrds, The Bangles, Air and The White Stripes.
Back in Alfie's bedroom, the 5 piece began work producing a string of demos including Hummingbird, a modern psych-pop number, they catch the ear of James Skelly who, impressed by the quality and potential of the group puts the band into the studio, before releasing the track as their debut release on his new label Skeleton Key Records.
On the road the band go from strength to strength with headline shows across the UK. There are also successful support slots with The Coral and Cat's Eyes, plus an appearance at All Tomorrow's Parties Festival, which helps them add to an ever-growing fan base. As their live reputation builds they clinch a coveted Glastonbury Festival 2013 slot on the BBC Introducing Stage, and NME name them as one of the Top 20 new bands to watch at the festival.
They spend the winter holed away in a Liverpool studio perfecting their infectious blend of rock & roll and psychedelic folk-rock, sounding like Melody Echo Chamber jamming with The Black Keys.
With the new Medicine EP ready to go, an album in tow, and a label that believes they're the most exciting young band to come out of Liverpool since days of the Bandwagon. Sundowners are ready to take the year by storm.